What is heartworm disease and how can I prevent it?


Heartworm disease is a potentially life-threatening disease that is transmitted from dog to dog through mosquito bites. Larvae from mosquito bites migrate to the heart through the bloodstream, taking up to 6 months from the day the mosquito bites a dog until the worm has matured in the heart. Once a worm has matured, heartworm disease is untreatable. Over time, heartworms can lodge in the heart with large blood vessels going from the heart to the lungs. If left untreated, heartworms can cause congestive heart failure in your pet.

All dogs, even ones who stay inside, are susceptible to heartworms since mosquitoes are everywhere. Daily heartworm preventatives used to be the only way to prevent the disease, but now we have several monthly preventatives to help keep your dog healthy much easier.

In addition, most medications also help keep your dog from picking up intestinal parasites. Given that southern winters are mild, pets need to use preventatives year long.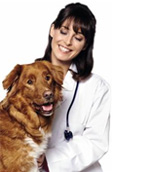 Reasons for heartworm testing:


It's very important to get pets heartworm tested before starting them on any heartworm preventive. A negative heartworm test must be performed prior to the use of heartworm medication as an infected pet can develop an anaphylactic reaction (if the heartworm test is positive). Symptoms may include being tired, coughing, weight loss and heart failure. Heartworm infections in dogs are usually diagnosed by a blood test.


Heartworm preventatives


Heartworm prevention is the key to keeping your pets safe from heartworms. In most cases, a once a month prescription tablet or topical treatment is all that is needed to effectively protect your pet. FDA approved products like Heartgard Plus, Interceptor Flavor Tabs, and Revolution Heartworm will keep your pet safe and the worms away.


Top Heartworm Preventatives: